Boris Johnson, who was forced to resign by many cabinet members last month, has been running the country 'remotely' for two weeks. Prime Minister's long vacation "He left work early" causes criticism.
It Is Commented That British Prime Minister Boris Johnson threw the towel in the towel before September 5, when the Conservative Party and the new leader of the country would be determined. Johnson, who spent last week in Slovenia, was seen yesterday on the Aegean coast of Greece. Meanwhile, haul trucks are already starting to clear out of London's prime minister's residence, Number 10.
FOOD ON THE AEGEAN COASTS
Johnson had Dinner With His Wife, Carrie, At A Restaurant In The Greek Resort town of Karistos . Johnson paid the bill at the checkout. The couple shopped at a convenience store in Nea Makri, near Athens, earlier that day. Johnson's father, Stanley, has a villa in Horto, a few hours from Athens. It is unclear whether the couple is staying here or in a hotel.
HOTEL WITHOUT INTERNET
Boris and Carrie Johnson took their belated honeymoon last week at a small resort in a remote corner of Slovenia with no internet connection in their rooms. The government announced that Boris Johnson paid for the hotel, which costs £542 (11,800 TL) per night.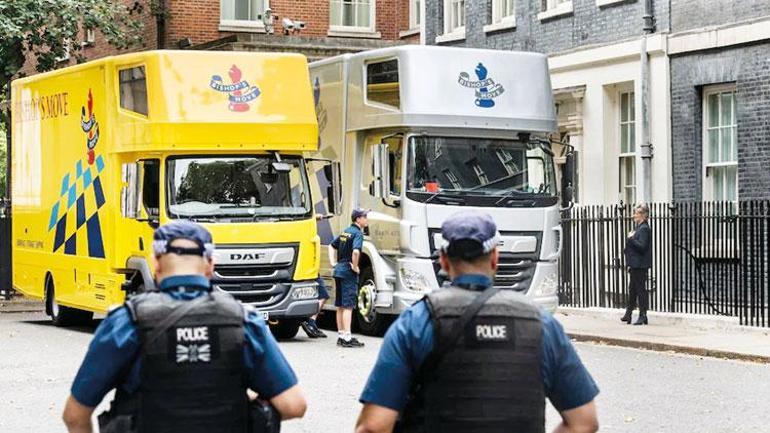 Escaped the stress of moving
While the spokesperson of the government and his supporters argued that the prime minister is managing the country from afar and things are not disrupted, comments were also made that Johnson escaped the stress of moving to Greece. The couple's personal belongings and furniture were loaded onto two trucks. The British press wrote that only the wallpapers costing £1500 remained. When Johnson took office, he had spent £112,000 on new furnishings for the Downing Street flat, the money being donated by a friend. Johnson, who put his own house up for sale for £1.6m, will live in a friend's house until he finds a permanent place.