Polat Holding pressed the button for the second phase sales of the real estate project City Pearl in Budapest, Hungary. The keys of 341 flats in the first phase (2024) of the project implemented by Polat Holding with the partnership of Nurol Holding and Özaltın Holding, and 336 flats in 2025 in the newly started second phase will be delivered to their owners.
Budapest, the capital city of Hungary, opened doors to new markets in Europe with the advantage of offering high living standards and large-scale trade volume; Nurol Holding gets a modern face with City Pearl, realized by the cooperation of Özaltın Holding and Polat Holding. 1+0, 1+1, 2+1, 3+1 and 4+1 apartments ranging in size from 27 to 147 square meters are designed for maximum comfort in the project, which was built in Soroksári, one of the most popular spots in the city, on the banks of the Danube. The second phase of the project, which will be delivered to the owners of 341 flats, 7 offices, 311 car parks, 356 bicycle parking spaces and 123 warehouse areas in 2024, will be delivered to its owners in the summer of 2025 with 336 flats, 10 office areas, 298 parking lots and storage areas. 
The iconic 19th-century water tower, twin bull statues adorning the main entrance, and the imperial-style ballroom, located on the site where the City Pearl, which shines as a profitable investment in Europe, is built, is also being restored and brought back to the project. Designed in harmony with the iconic buildings of the region, the project brings the past and the future together with its modern-style buildings.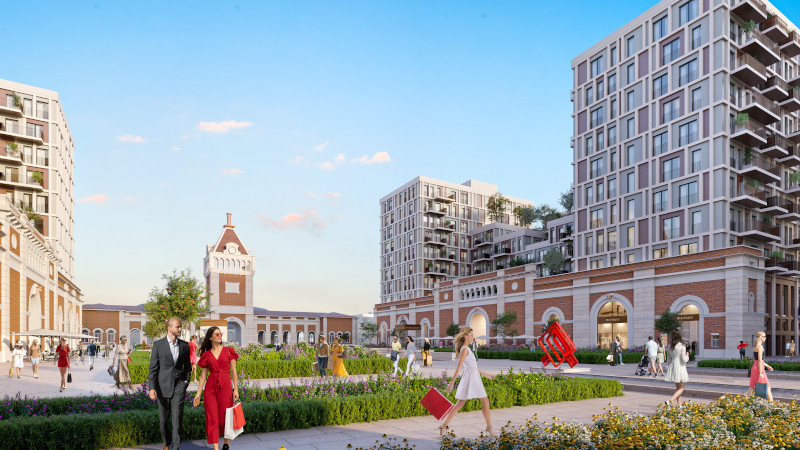 The facades were designed to match the atmosphere of the 19th century.
City Pearl, the first concept of which was created by the award-winning Chapman Taylor architecture studio, and designed with the perspective of Turkish and Hungarian architects; It is centrally located, close to the Danube, Budapest Park and the National Theatre. In the project, which will enrich the region with its functional, modern and metropolitan appearance, the facades of the buildings were designed to harmonize with the atmosphere of the 19th century. The commercial area "Piazza", located at the heart of the project, will add a new dynamism to the region as an open-air shopping center. The project has already started to be known as a new city in the city with its green areas, high ceiling apartments, restaurants, cafes, fitness and playgrounds.
Advantageous payment system
Being the modern face of Budapest as a new city within the city, it is very easy to own one of the apartments whose value will increase day by day in City Pearl. In the process of purchasing the flat, where the legal proceedings are followed by Polat Holding in favor of the buyer, an advantageous payment system is offered in 2 stages, 20% in cash and 80% in the delivery of the flat.