Turkish companies operating in Mosul, Iraq, aim to prevent floods that cause deaths by relieving the traffic of the city with the bridge and rainwater infrastructure projects they have built on the Tigris River.
Mosul, which is the second largest city in the country and came under the occupation of the terrorist organization DAESH on June 10, 2014, was liberated by the Iraqi army on July 10, 2017.
Advertisement
Turkish companies have made great contributions to the reconstruction of the city, which was destroyed under the occupation of DAESH.
Turkish companies, which have been working in Mosul for many years, are carrying out airport projects as well as bridge constructions, infrastructure systems, sewerage, hospital and school constructions.
Has more than 2,000 employees in Iraq
Kadir Çetin, who has been working as a manager in a Turkish company operating in Iraq since 2008, told Anadolu Agency that they have been working in Mosul for the last 4 years.
Advertisement
Noting that as a group, they have more than 2,000 employees in Iraq and that they contribute to the development of the country, Çetin said that Mosul has a special importance for Turkish companies.
Çetin said, "This steel bridge you have seen in the last 2 years was built using 1100 tons of steel. We have accomplished a task that connects Mosul."
"Our goal is to pave the way for big projects of Turkish companies"
Advertisement
Emphasizing that for the first time a Turkish company built a bridge over the Tigris River in the city from scratch, Çetin stated that the 300-meter-long bridge is an important solution at the traffic point and relieves the traffic.
Çetin stated the following regarding his activities in the city:
"Our goals are to make tenders to contribute to the development of Mosul, and to pave the way for Turkish companies to come here for their big projects. Actually, we came as a pioneer, and I hope more Turkish companies will follow."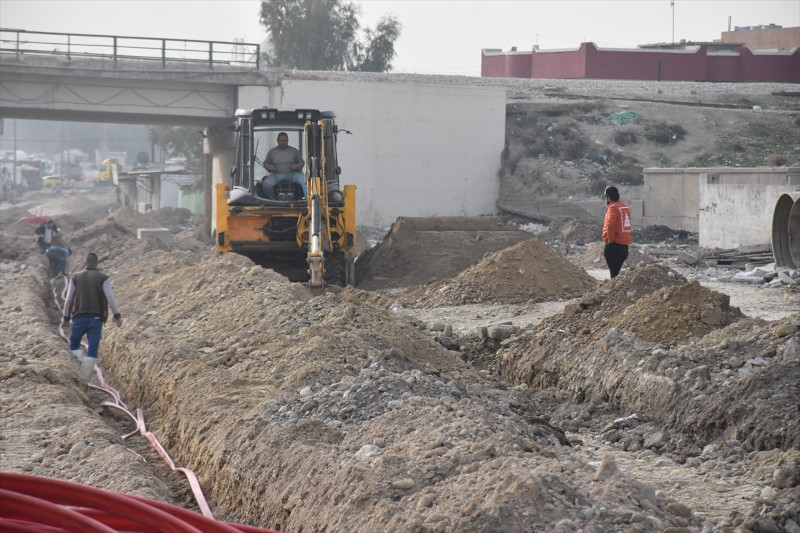 Special steel molds were brought from Turkey
Mehmet Bilgiç, who works as a coordinator in another Turkish company, said that they have been working seriously on the reconstruction of Mosul for about 4 years.
Reminding that there are floods that sometimes cause deaths in Mosul, Bilgiç said, "We ensure the realization of a project based on the collection and discharge of rain water in the city and sending it to the Tigris River."
Bilgiç stated that they have completed nearly 80 percent of the rainwater infrastructure project and said:
"We are carrying out the project both with pipes we brought from Turkey and with special steel molds that we manufacture on-site but whose molds we brought from Turkey. We have completed a line of around 20-22 kilometers. We have used approximately 10 thousand tons of rebar and over 100 thousand cubic meters of concrete until today. "
"The construction of the airport was started by a Turkish company"
Stating that they employed more than 40 construction equipment, hundreds of trucks and as many workers in the project, Bilgiç emphasized that they brought qualified employees from Turkey and that they were trying to teach their Iraqi employees how this technology is applied.
Regarding the activities of Turkish companies in the city, Bilgiç said, "It is now clear that Turks have an important function in the construction of the technical infrastructure of Mosul. We are building the rainwater infrastructure. A Turkish company is doing the sewer infrastructure again. Some of the Turkish companies here continue to build hospitals and schools. Airports. The construction was started again by a Turkish company," he said.
Pointing out that they do business in Mosul and various parts of Iraq, Bilgiç said that they are proud to see that the Turks are successful here and that they expect more people from Turkey to come here and do more successful work.
Advertisement